Most Colorful Weed Strain: Something That Will Be of Interest to Every Weed Grower
Any marijuana aficionado will be excited about the variety of cannabis strains available today. Although the tastes and strength of these flowers vary, the aesthetic effect of multicolored cannabis strains never fails to wow. Although most flowers are colors of green, some have crimson, golden, or amber hues. Others, on the other hand, can take on darker hues like purple or even black. Many people mistakenly assume that more powerful strains are always colorful cannabis strains.
Flowers are colored by anthocyanins, or water-soluble pigments, which are linked to the pH level in the soil. Fruits like blueberries and raspberries have the same pigments that give them their distinct colors.
Today we'll take a look at the craziest looking weed. This article contains not only the names of different colored weeds but also their description. So, if you want to try a rainbow of marijuana strains, start with this list of the nine most colorful weed strains.
9 Colorful Cannabis Strains
Northern Lights
This variety is one of the best-looking weeds. It has crystal-colored leaves that glitter, thanks to the crossbreeding of Afghani and Thai strains. The shimmering speckles that line the bloom give this soothing Indica a cosmos-like appearance. And deservedly so, because this strain resembles a starry sky, it calms and prepares the user for sleep. It has a spicy, sweet taste. Furthermore, at prior High Times Cannabis Cups, it was a popular favorite. It may not be the brightest and boldest of the multicolored cannabis strains on our list, but it'sits sparkly effect makes it gleam just a bit differently from the others.
Black Russian
The hairs lining this sensual-looking marijuana plant are crimson, deep purple, and lilac. This seductive Indica makes you feel comfortable and drowsy because of its dark color and uplifting smells of tropical mango and lemon. As a result, it's an excellent sedative before bedtime or for easing any bodily aches and pains. This strain, while soothing the body and mind and lulling it into a sleepy state, also creates euphoria. Its aesthetics and effects, which are created by combining Black Domina and White Russian strains, entice its lovers, who keep coming back for more.
Panama-Sedona Red
Fans of flowers frequently point out the brilliant hairs are strewn throughout a nug. Its hairs are a vibrant and blazing crimson, just like the fire you lit on this bloom. And the blossom is so densely covered in these eye-catching hairs that it appears to be nearly red, like a luscious strawberry. Unfortunately, while this tasty Sativa has a long flowering time, yields are regrettably poor. Because of its scarcity, this stimulating and joyful strain is becoming more and more of a nostalgic high for people who see it as one of the greatest colorful cannabis strains.
Blueberry Cheesecake
Your sweet craving might sometimes transfer into what you desire to smoke. This delectable bud not only provides a wonderful burst of rich blueberry and cheese tastes, but it also looks attractive. Blueberry Cheesecake features gentler shades of blue-violet and orange hairs interwoven with the lime green of the flower, unlike the other colorful cannabis strains on this list. Its high amounts of THC help you stay focused on things at hand while keeping your body relaxed, making it ideal for midday high.
Pinkman Goo
When looking at colorful cannabis strains, one is typically captivated by the different hair hues. It's not just about the hairs, though. This stimulating Indica also contains medicinal resin droplets (or goo) that resemble maple syrup. THC content is 4% greater in this resin than in other, less sticky buds. It isn't merely gorgeous because of its dewiness like the most colorful cannabis strains are. It also boasts stunning purple-rimmed leaves and thick purple-tinted blooms that captivate the senses. Pinkman Goo is a bud to stay with because of its earthy scent, which only adds to its delightful and amazing allure.
Black Beauty
Looking for something a little more sinister? Sometimes the most vibrant marijuana strains come in a dark violet color that resembles a concord grape. This unusual breed is a great delight, despite its lack of brightness. It has a sweet flavor and a pineapple. It also helps with PTSD, boosting hunger, insulin production, and even cell regeneration after an injury, because of its high THCV concentration. But good luck tracking down this elusive beauty – she's difficult to track down but well worth the journey into the unknown.
Rainbow Kush
This vibrantly colored strain would be missing from any list of colorful cannabis strains. Its name emphasizes its brightness and assertiveness, giving the blossom a wide variety of colors. This Indica hybrid gives a creative, euphoric high with overtones of tropical, citrus, and berry aromas. Its blooms, which are created by combining Dancehall and Blueberry strains, provide a rich spectrum of color that even people who aren't fans of marijuana will admire. It also doesn't dominate the body or produce a heavy sensation, even though it can provide pain relief. Nonetheless, this vibrant strain uplifts anybody who drinks it, not only because of its color but also because of its feel-good vibrations.
Purple Urkle
This skunky Indica has a unique grape and berry flavor, and its hues reflect that. This flower, like many of the most colorful cannabis strains, has a gorgeous combination of hues. Its rich emerald green hairs contrast with the orange and violet hairs that are commonly associated with the weed. This flowery strain is good for insomnia and is great for full-body relaxation. It can also help with arthritic pain and other forms of emotional discomfort. It's simple to find your happy spot in this high—intense it's and a visual feast for the senses.
Acapulco Gold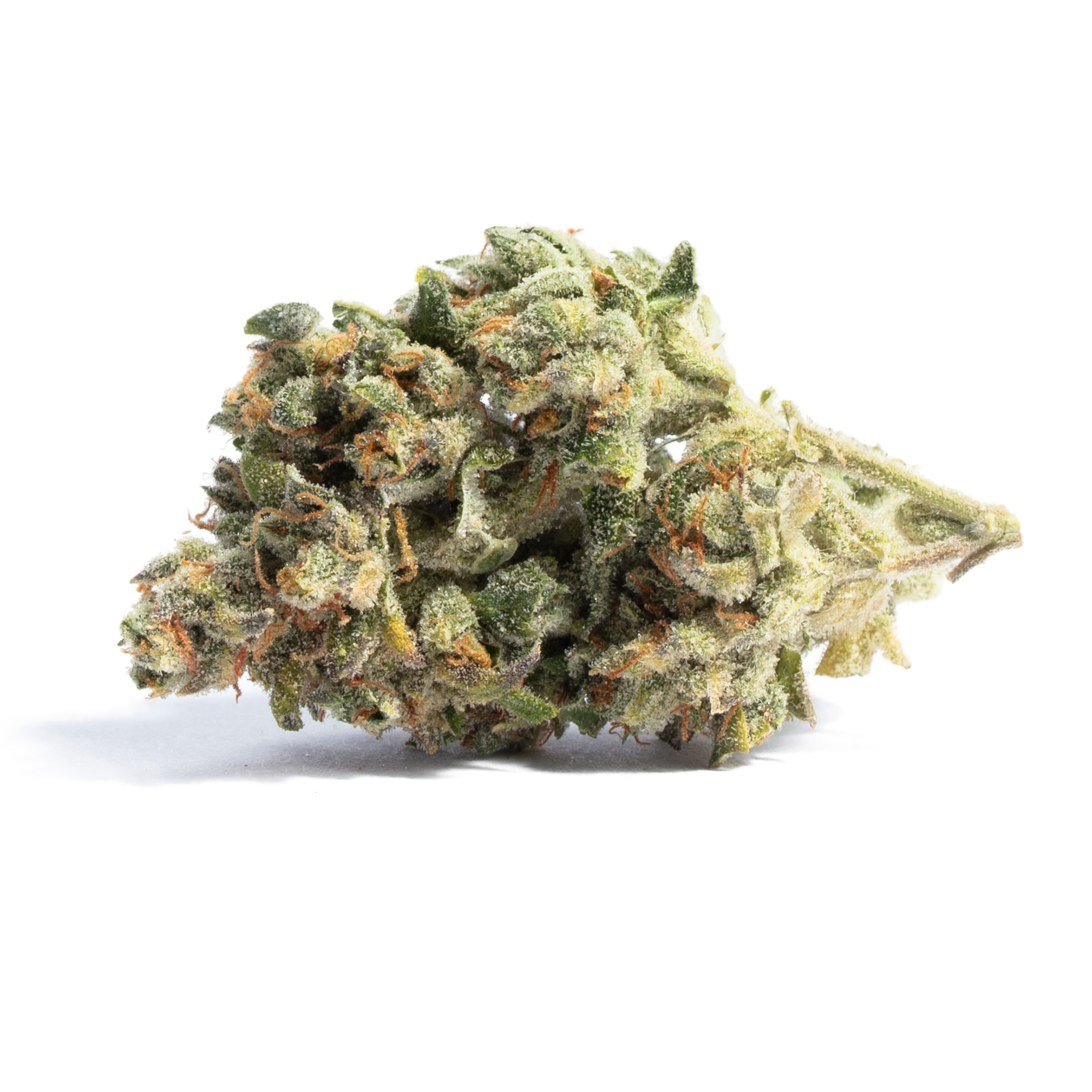 If they realized this golden-colored variety could be easily mined, tens of thousands of people would rush west. Without the assistance of contemporary technology, this old-school golden oldie has retained a potency of above 20%. Not only that, but this strain, which ranks among the most colorful marijuana strains, is a purebred Sativa. In the context of hybrid-dominated genetics, this is a remarkable achievement. Topping off the benefits of this 24K strain, it offers a euphoric, yet productive high that nevertheless helps with bodily problems. Winning Acapulco Gold in a rose blunt would be a nice, colorful, and romantic present for any cannabis enthusiast, better than a gold ring.
The List of the Most Colorful Weed Strains Continues
Fortunately, this collection of colorful marijuana strains isn't static. It's just getting bigger as more gardeners take on the challenge of harvesting plants that are both beautiful and potent. Plant cultivation, although a fascinating science, is increasingly becoming an art form. And one of the materials for their creations is the distinctive shades of the colorful weed plant. Perhaps over time, we will see even more colorful marijuana buds.
Do you like this article?
yes
1
We see you've got what you wanted! Give a feedback!
no
1
We already spotted your angry eyes. Come on, spell it.
All provided content on the blog is presented exclusively for adults (21+ years old)
The content on this channel does not form a professional opinion, recommendation, substitute for consulting a specialist, or receiving medical advice. Cannabis is a dangerous drug, as defined in the Dangerous Drugs Ordinance, for all that assumes. Four Hundred and Twenty does not encourage or recommend consuming any substance and will not be responsible for any such use.